Kaspersky Antivirus Review
Kaspersky Antivirus is considered one of the most reliable antivirus solutions in the market. It does lack some bonus features other antivirus solutions have. However, its next-generation virus protection speaks for itself.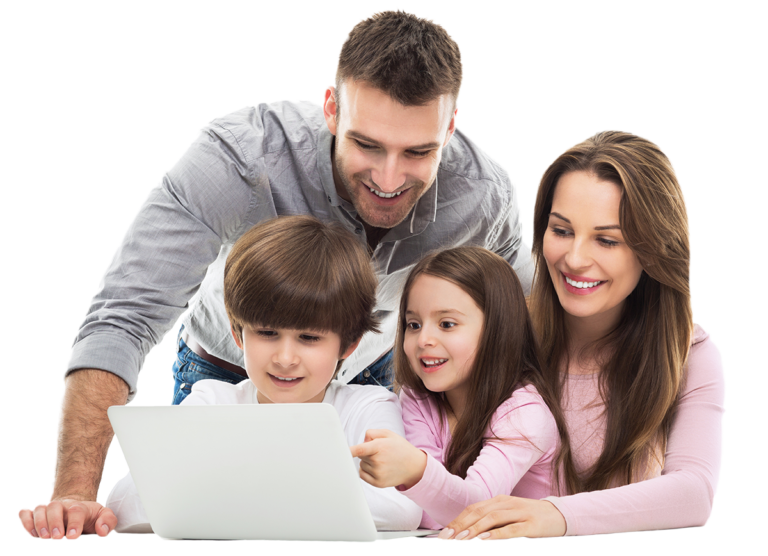 Kaspersky Lab is an international software security company founded in 1997. Throughout its operations, the company has produced next-generation security solutions to protect businesses, sensitive software infrastructures and countless consumers all over the globe.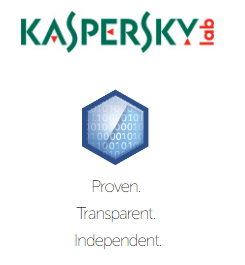 The company's consumer base exceeds 400 million users, as well as 270,000 corporate clients.
The company's security portfolio covers world-class endpoint protection and advanced security solutions and services to combat cybersecurity threats.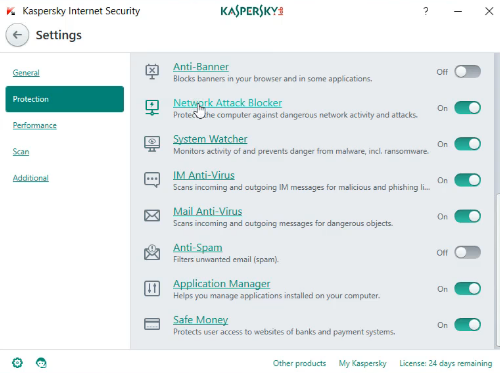 Kaspersky Antivirus is revered as the most awarded antivirus solution in the market. The software's next-generation malware protection is verified by several independent tests. The company received the following awards between 2015 and 2018.


Kaspersky's strong security features are the secret behind their excellent antivirus protection.  The brand's premium product covers every essential feature needed for a complete security solution.
The antivirus is best known for its incredible malware protection. The system not only detects malware activity but is also capable of reverting infected files.
AV-Comparatives' Real-World Protection tests the performance of top antivirus engines. The test is designed to gauge how effective an antivirus is against well-known and emerging digital threats.
According to their most recent report in July 2018, Kaspersky topped the list among 18 other products. The antivirus was able to block 100% of the threats without raising a single false flag.
Hackers are experts in inventing new ways to infiltrate and compromise software systems. So it's necessary for your antivirus solution to stay updated. Unlike other systems that update security definitions on a daily basis, Kaspersky performs hourly updates.  It not only protects your system from looming cyber threats but also does it in a non-intrusive way.
Rescue Disk is a bootable environment that offers deep-level protection during the operating system's launch. It can help detect and remove malicious programs existing in the system firmware.
It is a useful feature and available in the software's free version. You can download it for free from the company's website.
The Scan Panel allows you to run quick or full system scans depending on your needs. It can also check external devices or any other files you may select. Kaspersky also features some of the fastest system scans available in the antivirus market. Though the scan might require some navigation, the system isn't difficult to use.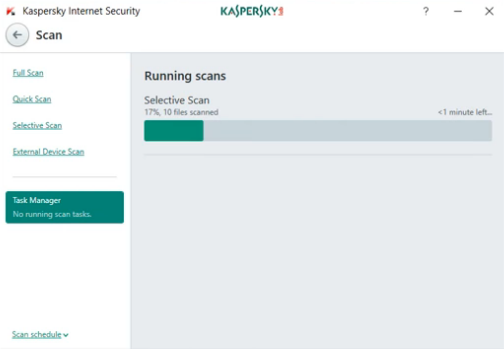 The System Watcher feature is responsible for detecting malicious programs like ransomware. The feature's strict detection system allows it to block malware activity missed by real-time detection systems.
The antivirus also provides solid protection against zero-day attacks, which can creep in during Window startups.
The anti-keylogging feature protects your system from malicious key-logging software. The user can use an on-screen keyboard to protect confidential info like usernames and passwords from falling into the wrong hands.

Vulnerability Scan is included in the software's arsenal to check for missing security patches. The feature also detects poorly configured OS settings and or any other vulnerability your system might have.
It can detect key-based malware that arises from leaving USB-drives on auto-run. You can block remove these malicious programs in a couple of clicks.
The Privacy Cleaner detects and removes application records of your activities. This feature is essential to protect users from phishing malware. It can clean the record of your activity in applications, browsing history, cookies and recent documents. Everything a hacker can use to track your activity is cleaned in a flash.
Overall, Kaspersky's bonus features are not as strong as its rivals' features. However, it does offer helpful bonus features to benefit you in other ways.
The software has good support for multiple platforms. Users can benefit from Kaspersky's uncompromising security features across a range of operating systems.
All versions between Windows 7 and Windows 10.

All iOS and Mac devices.

All Android Systems beyond Android 4.1.
The antivirus's premium product Kaspersky Total Security provides a tool for worried parents. The feature allows you to protect your children from harmful websites.
You can include a light VPN to secure your browsing from prying eyes. Kaspersky Total Security lets you browse safely and keeps your network traffic private.
The Browser Configuration Wizard patches any configuration issues with a system's web browser. Unfortunately, it is only compatible with Internet Explorer. However, it can make browsing secure for applications that still run on Microsoft's web engine.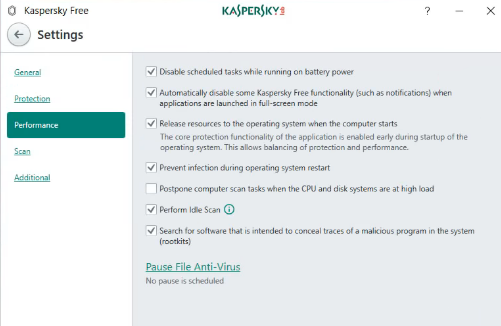 The software also has a resourceful free version available for their customers. It offers basic malware protection and warns its users about malicious websites. People can get the look and feel of Kaspersky premium protection without any charge.
Kaspersky has three basic licenses available for its users. The price of packages varies, based on the type of license and the number of devices you subscribe for.
Kaspersky Antivirus is the basic version of the company's antivirus products. You can benefit from the software's phishing and spyware protection and vulnerability scans.
The system also has a gamer mode to save players from interruption and a mechanism for scanning message and email for malware. The package starts at $60 year for three devices.
Kaspersky Internet Security starts from $80 a year for three devices. It adds useful features like parental control, anti-theft software, webcam protection and a secure browser. You can also use 200MB a day of secure VPN access. This can be upgraded to unlimited VPN data after paying an extra $30 to your yearly plan.
Moreover, the software monitors your home network and stops malicious add-ons from being installed. It enables you to add Kaspersky software to your Macs, iOS and Android devices.
Total Security is the premium product of the Kaspersky brand. It caters a complete software security solution and the best of the software's features.
You can get premium protection for five systems at just $100 a year. It also lets you access cool features like file encryption, password manager and file back-up and storage.
Kaspersky also lets you avail a neat discount on your first subscription of the software.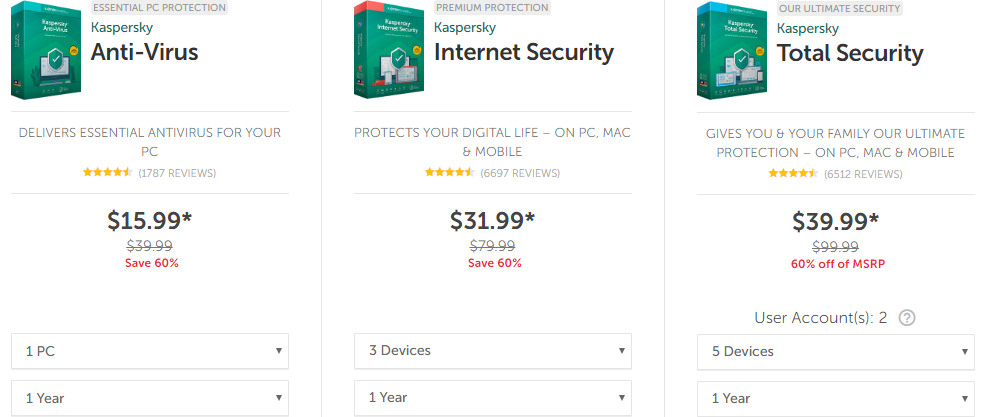 Kaspersky offers a light and easy-to-use interface for its customers. You can know that your system is safe when the top main screen is green. This will change to red when your system is at risk.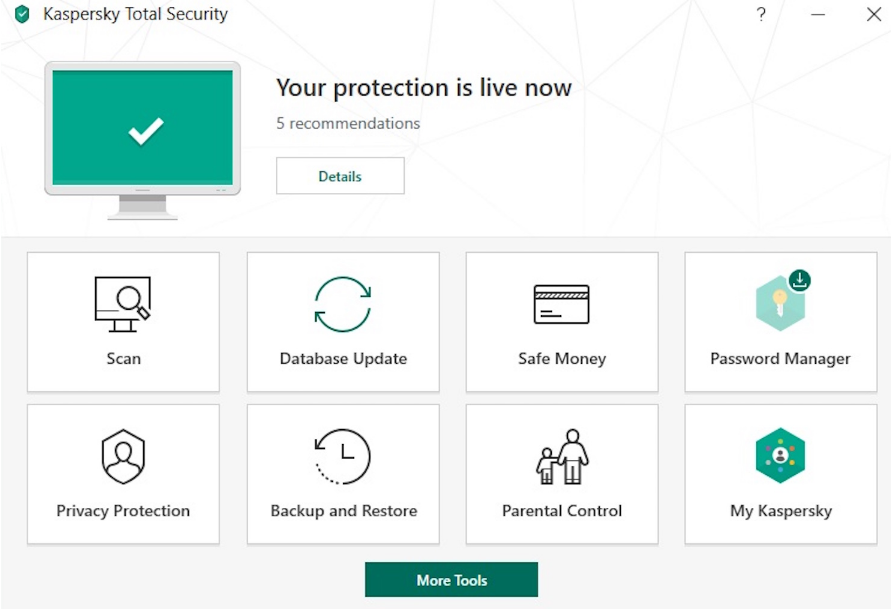 All options are displayed conveniently on the main screen. You can also set up backups, update software and access password manager and parental controls without navigating a single tab. You can also see how much time your subscription will last.
The component named as More Tools lets you access utilities like on-screen keyboard and client VPN. The Settings icon lets you open modules for Firewall, Webcam Protection and other antivirus features.
Scans can also be set according to your liking. You can choose it to scan your system daily, in a week or a monthly basis.
Kaspersky has improved its installation time and can complete its installation in 5 minutes. This is faster than other antiviruses that take at least 8 minutes or more to completely install on your machine.
To install the software, you just have to download a light 2.5 MB installation file. Once you execute that file, the installation will finish on its own.
Kaspersky products are excellent because they let you access the software's incredible support team. You can contact technicians any day of the week through phone, chat or email. They are at your service between 1 a.m. to 7 a.m. at Eastern Time.
The company's website also features a comprehensive resource centre. The section lets you in about the latest cybersecurity threats. It also offers several useful articles, blogs and videos on how to stay protected from online hazards.